Hello lovelies, do you like coconut water? We are huge fans!I'm not quite sure if it is because we got married in Hawaii and simply love the tropical climate or because we always have it on every vacation and so it automatically creates a holiday feeling for me. It is the ultimate refreshment – super delicious, healthy and it contains lots of vitamines. Next to water it is the most favorite thirst quencher for us. Unfortunately we can't just climb onto the next palm tree to harvest a fresh coconut, but we have happily found the perfect alternative: Coco-Drink from Alnatura! It's absolutely natural without any additives of the young coconut and in addition it's organic. We are convinced of the taste and we have had many different brands of coconut waters before.
This is why I'm very excited to present two recipes with this Coco-Drink in cooperation with Alnatura to you today. Super easy, very tasty and our ultimate refreshment for hot summer days! Furthermore there is a giveaway for you guys – more info further down this post.
The first recipe couldn't be any easier as it only contains two ingredients: the Coco-Drink and berries (perhaps some edible flowers and some dark chocolate).
Coconut water popsicle
Of course you will need some popsicle molds for this ice cream. Simply add some berries of your choice into the molds, some edible flowers if you like and then fill them up with Coco-Drink from Alnatura– freeze over night and you can enjoy a very delicious refreshment.


If you prefer it a little sweeter or if you want this ice-cream to be a dessert, you can dip the popsicles in melted dark chocolate after the first freeze – also very tasty!
The second recipe that I created with the Coco-Drink from Alnatura is a beet root-berry-smoothie. In general I like to use coconut water for my smoothies as I prefer the taste compared to normal water and I can easily add some vitamines with it.
Here is the recipe for the smoothie: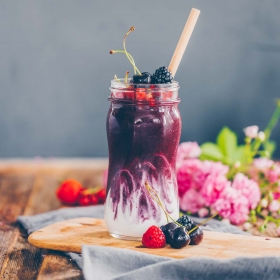 Ingredients
1

beet

pre-cooked

1

Coco-Drink from Alnatura

330 ml

200

gr

frozen berries

mixed or any kind you prefer

2

Tsp

chia seeds

1

Tsp

Maca powder

optional

5-6

fresh strawberries

2

dates

or more if you like it sweeter
Instructions
Add all ingreidents to a high speed blender and mix until smooth.

Serve in a jar or bowl and add toppings like puffed amaranth, granola, fresh berries, cacao nibs
This smoothie implies lots of important antioxidants and nutrients due to the beet root and berries. The coconut water adds a fresh taste to the smoothie and if you add some dates you can vary the level of sweetness. I prefer to serve this smoothie in a bowl with many toppings such as fresh berries, granola, puffed amaranth or quinoa, cacao nibs and nut butter – I can never have too many toppings :-). And of course you can also place the Coco-Drink berry popsicles into a bowl – it provides the agony of choice what to eat first.
You can also just serve the smoothie in a glass, adding for example a delicious coconut yogurt and even more berries, as you currently can't have too much of them.
I really hope, I was able to inspire you to taste the Coco-Drink from Alnatura. My girls really love it and when I serve the popsicles I can let them have more than one without any bad feeling. They are super refreshing and a healthy alternative to regular icecream.
In order for you to taste the drink rather soon than later, you now have the opportunity to win it! But not only the Coco-Drink, but a whole package full of great Alnatura products - I have added all my favorites for you. The package contains the Coco-Drink, Basmati Rice, cashew butter, maple syrup, chia seeds and much moire. Two of you have the chance to win this amazing package, all you have to do is comment on my Instagram post and let me know what your favorite Alnatura products is. Good luck everyone!
Love, Verena
*This post is a paid partnership with Alnatura - the recipes and my opinion are my own. 
This post is also available in: deutsch