Hello Lovelies, have you already got your hands on some wild garlic this season? Or is it available where you live? The girls already found some last week, when they went on a day trip to the forest with the kindergarten. So they have been curious about wild garlic ever since. Best time to present them and you with some recipes that include the delicious green leaves (wild garlic or bear's garlic is a relative of chives, did you know?). Even though it grows in the woods around us, I actually bought it this time - I admit it.
The first recipe I'd like to share with you is for a delicious soup. Wild garlic is not the base of the soup, since I think the taste would have been a bit too dominant for the kids. But since I wanted it to be a lush green, I made it with broccoli, potatoes and wild garlic. I also added some lemon juice and mint, which made it such a fresh and delicious combination - and doesn't it look like spring in a bowl?
Here is the recipe: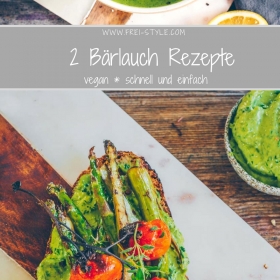 Ingredients
1

onion

1

Tbsp

olive oil

salt

2

Tbsp

lemon juice

200

gr

broccoli

200

gr

potatoes

700

ml

veggie broth

100

ml

vegan cream

50 - 100

gr

fresh wild garlic

5-6

mint leaves

pepper

salt

nutmeg

lemon juice
Instructions
Peel the onion and chop finely

Sauté in olive oil, add the lemon juice and salt

Wash the broccoli and separate into florets, peel the potatoes and chop into squares

Add both to the onions and sauté for 3-5 minutes

Add the veggie broth and let simmer for 15-20 minutes until the veggies are soft

Wash the wild garlic and roughly chop it

Add the cream, mint leaves and wild garlic to the soup and puree finely

Boil again briefly and season to taste with pepper, salt, nutmeg and lemon juice
The amount of the wild garlic is measured flexible, depending on who will eat the soup. For me personally, I would have loved a stronger flavor, but for the girls it was just right. So add as much as you like and see how strong you like the taste.


The second recipe is for an Avocado-wild-garlic Dip. So easy to prepare, but super delicious and versatile. The dip is perfect as spread for toast, as dip for roasted potatoes or as a base for savory pancakes or wraps. Or just serve it with a crudités platter as dip for veggies and crackers.
Here is the recipe:
Ingredients:
2 Avocados
50 gr fresh wild garlic
Juice of  1/2 lemon
salt
pepper
garlic powder
1 Tbsp Cashew butter
How To:
Mix the flesh of the Avocado with all the other ingredients (except the spices) with a immersion blender, mixer or food processor - season to tase with the salt, pepper, garlic and lemon juice.
We ate the dip on toast topped with grilled green asparagus and oven roasted cocktail tomatoes. Oh my what a heavenly combination - I had to eat two of them! To make to tomatoes, just wash them, spray or brush with some olive oil, sprinkle with salt, pepper and some coconut blossom sugar and roast on high temperature  in the oven until cracked and brown. To make the asparagus, cut it in half (lengthwise) and grill in a pan with olive oil. Season with salt, pepper and fresh lemon juice. Serve on the roasted bread with the wild garlic dip.
We had some asparagus and dip left, so we had a similar combination again the next day. I cut the asparagus with a peeler in thin slices and quickly sautéed them in some olive oil and mixed them with rucola pesto (I made the other week). Served it with some golden potato coins and the dip. For the potato coins, just slice the potatoes (with the skin) season with herbs, salt and pepper and roast them without adding any oil in the oven for 25-30 minutes at 200 C until golden brown.
Now I'm curious, have you made any wild garlic recipes already this year? And if yes, what is your favorite way to prepare it?
Love  Verena
If you have Pinterest, you can find me here and pin this picture if you like:
This post is also available in: deutsch