Hello Lovelies, I'm back again. And yes - with another pumpkin recipe. Pumpkin fever is officially on in our house and we are having a new pumpkin dish every day. Please sent me a hint if you are tired of seeing all the pumpkin here!
Not going to write much today, just leave you with the new recipe. And I have a very shocking revelation for you: even foodblogger like to eat their dishes WARM (hot would be a dream)! I know that must come as a surprise for most people, but now you heard it :-). The pumpkin pizza was just too delicious, so I only took 2-3 pictures (ok maybe 20-25 :-)) and then enjoyed it warm.
Here is the recipe, a yummy vegan pizza with pumpkin, sour cream, onions, rosemary and pine nuts: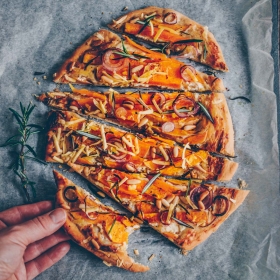 Ingredients
DOUGH
400

gr

spelt flour

200

ml

water

10

gr

yeast

or 1 package dry yeast

1

tbsp

coconut sugar

25

gr

olive oil

1

tsp

salt

pumpkin

vegan sour cream

red onion

pine nuts

fresh rosemary

vegan pizza cheese

salt

pepper
Instructions
DOUGH:
Mix all the ingredients and knead to a dough.

Let rise for 3-4 hours in a greased bowl.

Preheat the oven to 180 degree.

Roll out the dough on a floured surface. We made 4 single serve pizzas, so everyone could have their own toppings.

The dough is enough for 4 pizzas.
TOPPING:
Add sour cream to the dough, make sure you use enough, so the pizza won't be dry.

Season with salt and pepper.

Cut the pumpkin (I had butternut) into sticks and add to the pizza.

Add the pine nuts, rosemary, onions (cut in rings) and vegan cheese on top.

Bake for 25-30 minutes, keep an eye on it.

You can brush it with some olive oil in between, so the pumpkin won't get too dry.

Enjoy warm 🙂
And here is the proof that I really couldn't wait, the pizza just smelled too good and I had to take a bite even while still taking the pictures! It's made really quickly and with a salad, a healthy meal for the whole family.
Love Verena
Have you seen my other pumpkin recipes here and here?
This post is also available in: deutsch